RAM 1500 Near Fort Wayne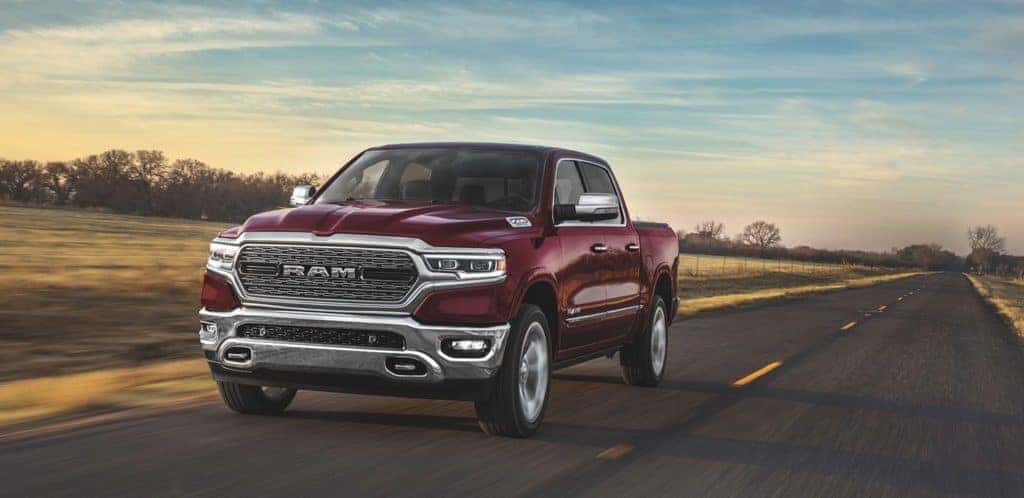 Find Out Why the 2020 RAM 1500 Can Handle All of Your Towing and Trailering Needs
At our nearby Fort Wayne RAM dealership, we understand that it's often difficult to find the right pickup truck that matches all of your driving needs, especially when it comes to towing. Many pickup trucks come in many different types of configurations, and each configuration can directly affect how well it tows. To help, we've broken down all the important towing features in the 2020 RAM 1500, one of the best towing trucks in its class today.
Payload
The 2020 RAM 1500 features a maximum payload of 2,100 pounds. This payload number means that this pickup truck can carry over one ton of weight in terms of cargo and passengers. This is important because a lower payload can adversely affect how much weight you can tow. Thankfully for you, the 2020 RAM 1500 – much like all RAM trucks – is engineered to tow, which means it was specifically built for those who plan to pull the heaviest of campers and trailers.
Engine and Transmission
The 2020 RAM 1500 offers an available 5.7-liter V8 engine that produces 395 horsepower and 410 lb.-ft. of torque. When this engine is partnered up with the available eight-speed automatic TorqueFlite transmission, which is engineered with performance and efficiency in mind, the 2020 RAM 1500 becomes a venerable towing machine that can pull some of the most challenging campers and trailers out there.
More importantly, this engine and transmission combo boasts a towing capacity of 12,750 pounds, giving you the opportunity to enjoy long road trips if it requires transporting both passengers and equipment.
Cab Size and Bed Length
Cab size and bed length are often underrated categories when it comes to how well a pickup truck tows. Typically an extended cab and longer bed achieves better towing capacities, which is why it's no surprise that the 2020 RAM 1500 offers one of the best cab sizes and bed lengths in its class. The maximum bed length that can be found in this pickup is 76.8 inches, which provides excellent space and strength.
If you're looking for a pickup truck with one of the best towing features, you should definitely take a close look at the 2020 RAM 1500. Glenbrook Dodge Chrysler Jeep® can provide you with excellent customer service and a full inventory of vehicles, from new trucks to used Dodge vehicles.